Ano nga ba ang mga sikat na mga pagkain na produkto ng Bulacan? Halina at magfood trip tayo sa aming ultimate glossary of yummy Bulacan Food Products! Tara lets!
#nomnomnom
A – Bulacan Food Products
Aparon (Malolos) – Filipino wafers drizzled with caramelized sugar and optionally, sesame seeds. They are uniquely made from unconsecrated hostia (communion wafers).
Atcharang Dampalit – an atchara using a certain type of fishpond grass; Sweet pickled weeds with small leaves
B – Bulacan Food Products
Belekoy – sweet pastry is prepared with flour, sugar, sesame seeds and vanilla
Biscocho (San Miguel) – twice-baked breads, usually coated with butter and sugar.
Biringheng Bulacan – originally, an indigenous dish of sticky rice (malagkit) with coconut cream (gata) cooked in turmeric (dilaw) for important occasions like wedding; a heritage fare in the house of the Bautista clan of Malolos; today, Hispanized (like paella after the Spaniards arrived) to contain chicken meat, carrots, shrimps, chicken innards, and raisins
Bucheron – Made from chicken craw (butse), a part of the esophagus where freshly swallowed food are temporarily stored for later digestion
C – Bulacan Food Products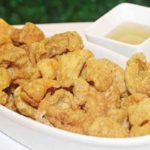 Chicharon (Sta. Maria) – crunchy, deep-fried pork belly or pork rinds

Kulurot (San Jose del Monte) – a variation of chicharon; extra-fluffy and light variety of chitterling

Corbata de sebo (Malolos) – a bowtie-shaped biscocho that has lard and does not taste too sweet
READ Chicharon: Read about this SUPER YUMMY, CRUNCHY Treat from Sta. Maria
Crispy Mushroom (Plaridel) – mushroom alternative to the pork chicharon, usually sold in bits and flakes
E – Bulacan Food Products
Empanadang Kaliskis (Malolos) – flaky and crunchy empanada, recipe of which is more than 200 years old
Ensaymada Malolos (Malolos; Guiguinto) – "cheesy brioche with salted eggs"; ito ang karaniwang kaibahan ng ensaymadang Malolos kaysa sa mga ensaymada sa ibang lugar. Maaari ring may ham ito, lalo na sa mga malalaking version.
G – Bulacan Food Products
Gurgurya / Gorgorya / Golloria – "fried (and thus flaky) small shell-shaped biscuits glazed with syrup;" "cookie takes its name from coral and uses kalumata leaves to impart a flavor of licorice to the sugar coating"
H – Bulacan Food Products
Hamon Bulakenya – pork marinated in pineapple juice and beer then served with meted and singed sugar on top. In the absence of oven, sugar drizzled on its surface is processed like pinaso where a heavy hot spatula is used to melt and toast it. Pinaniniwalaang tinuro ito sa Bulacan ng mga Kastilang prayle.
Hamonadong Sugpo – a special-occasion appetizer; a heritage dish in the house of the Bautista clan of Malolos
I – Bulacan Food Products
Inipit de Leche / Inipit (Malolos; Guiguinto) – pressed custand sponge cake; "inipit" ay Tagalog para sa "pressed"
K – Bulacan Food Products
READ CITANG'S EATERY Malolos: The Ultimate Merienda Place since 1970
Kakanin – various types of native rice / cassava cakes like suman, puto, Suman muriekos, kutchinta, biko, maja blanca, sapin-sapin, kalamay, cassava cake, etc.
Kilawing Bangus in Kesong Puti – a heritage recipe of the Bautista clan of Malolos; tinatawag ring "Merienda de Prayle"
L – Bulacan Food Products
Lapu-Lapu de la Reyna – steamed lapu-lapu in spices and rainbow-color dressing (assorted vegetables) with mayonnaise; served during special occasions; a heritage dish in the house of the Bautista clan of Malolos
Lechon Bocaue (Bocaue) – "pork liempo known as Lechon Bocaue because it is fried; locally called Sinuso because it is literally fried pork breast, thus the [cartilaginous] texture of the meat and its somewhat milky taste"
Lengua Maloleña – a Malolos lengua specialty characterized by a volcano-shaped mashed potato as siding
Longganisang Calumpit (Calumpit) – a longganisa variant that's more fatty and garlicky; minsan, tinatawag din itong Longganisang Bawang.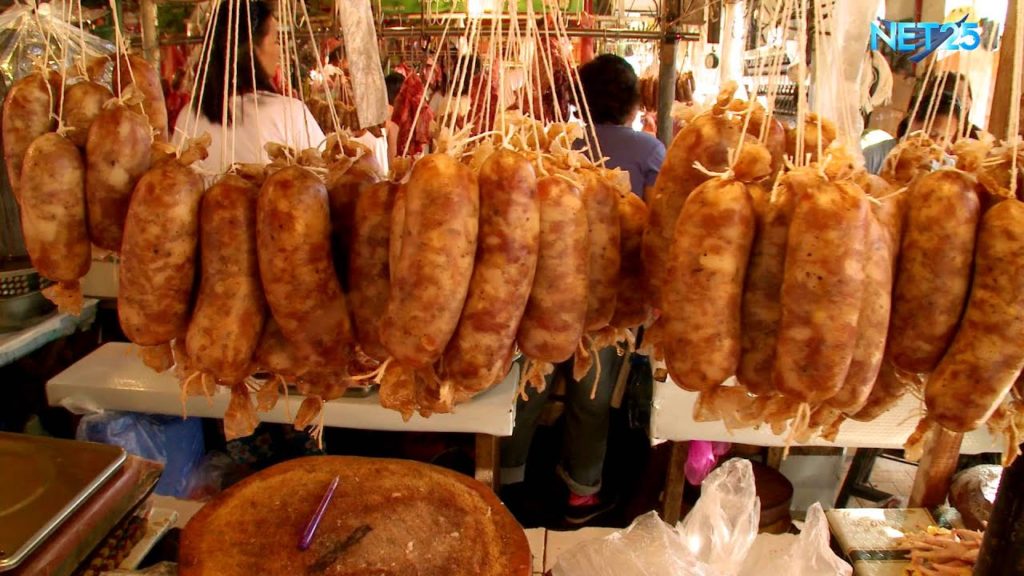 M – Bulacan Food Products
Macapuno Balls – soft, chewy, and sweet treats made of macapuno preserves.
Minasa (Bustos) – cassava cookies that is also cooked with some coconut milk. Take note! Dahil sa proud talaga tayo sa produktong ito, may ipinagdiriwang ding Minasa Festival sa Bustos!
Morisqueta tostada – fried rice with an assortment of tiny bits of corn and chopped-up Baguio beans, ham, fried chicken
N – Bulacan Food Products
Nilagang Manok na Puti with Asparagus – historically, Gen. Emilio Aguinaldo's favorite dish of an imported chicken breed cooked like the usual nilaga (sliced saba, cabbage, etc.) but added with asparagus stalks; today, a Malolos restaurant's offering, among other heroes' favorites
Nilagang Pasko – traditional na sabaw pag Pasko, using chicken, beef and pork boiled with vegetables like cabbage, pechay and string beans. Usually, buong nilalaga ang iba-ibang karne dahil simbolo ito ng pagsasama-sama ng pamilya. This originated from the Spanish times.
P – Bulacan Food Products
Pancit Alanganin (Bocaue) – noodle dish that is in-between a saucy lomi and guisado type … so medyo masabaw ng konti pero MASARAP!
Pancit Marilao (Marilao) – a variant of pancit palabok but what makes it different are its toppings. Pancit Marilao is topped with Bulacan okoy (shrimp fritters) and instead of calamansi, it is garnished with slices of kamias as pampaasim.
Pastillas / Pastillas de Leche (San Miguel) – candied carabao's milk. Marami na ring variation ng pastillas na nabibili sa iba't ibang bahagi ng Bulacan.

Toasted Pastillas
Pastillas de Yema
Pastillas de Ube
Assorted Pastillas (different flavors like cheese, langka, etc.)

Pastimallows (Marilao) – marshmallows coated with pastillas de leche in different flavors/colors
Pilipit – traditional Filipino deep-fried twisted doughnut. It is made with flour, eggs, milk, salt, and baking powder. It is crunchy and has a hard texture.
Pinaso (Malolos) – "a cross between leche flan and crème brûlée," made of crushed saltine crackers in eggs, sugar, milk, and dayap rind
Putong Pulo (Marilao) – small brown puto from Pulo, Marilao; some say that the famous Puto Calasiao originally was a variation of this.
Putok Pandesal de Baliuag (Baliuag) – milky bread roll; pandesal dough pa rin ang gamit nito, ngunit mas malinamnam at magatas.
S – Bulacan Food Products
Sabaw ng Sariwang Gatas ng Kalabaw with Eggplant and Tuyo (Sta. Maria) – fresh carabao milk poured on rice; matched with fried eggplant and tuyo
Serkele (Baliuag) – a different version of dinuguan. Serkele uses cow's meat, innards and blood cooked to perfection.
Soreche – made from carabao's milk, corn starch and sugar similar to maja blanca
Sukang Paombong (Paombong) – Vinegar extracted from the sap of sasa (nipa) which makes Paombong known and dubbed as the "Vinegar Capital of the Philippines".
Suwam na Mais (Malolos) – soup with grated corn, squash flower, eggplant, and squash leaves; a heritage fare in the house of the Bautista clan of Malolos
T – Bulacan Food Products
Tamales (Malolos) – sweet galapong version topped with cheese, latik, langka, and macapuno; of course, eaten as dessert and thus more like a suman
Refer to this provincial site also for some details on the Bulacan food products under the Tatak Bulakenyo program: https://www.bulacan.gov.ph/business/products.php