Last Updated on
Follow the latest updates in this bulletin for Bulacan COVID-19 cases, as well as other related updates and measures. We have moved the daily journal of the Bulacan Provincial Health Office (PHO) report on COVID-19 cases to Bulacan COVID-19 Virus Journal Log Book.
---
Aug 5 – Active at 978, with 1,560 COVID-19 Cases, 532 Recovered Patients, and 50 Deaths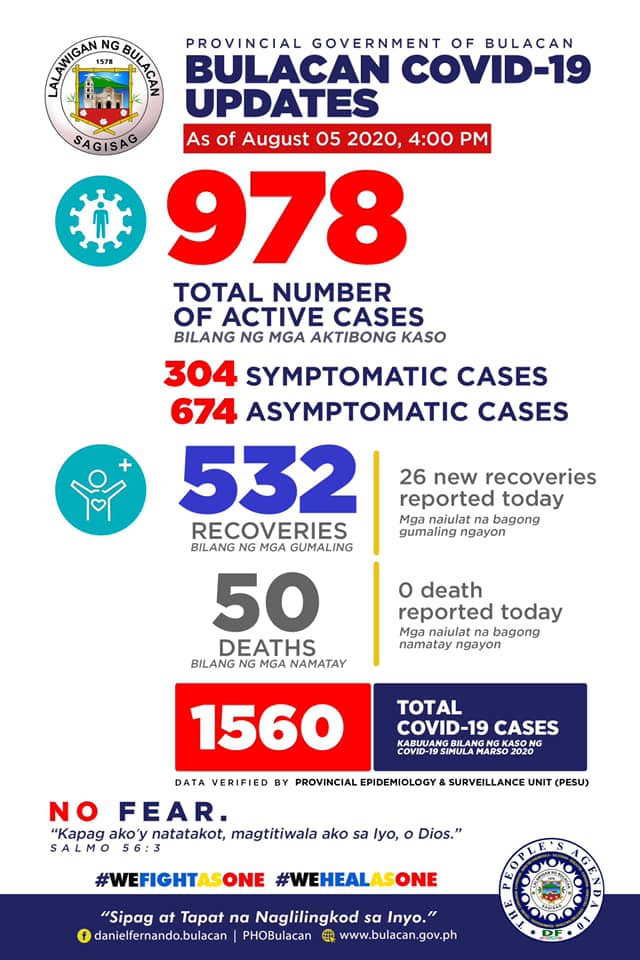 On the second day back at Modified Enhanced Community Quarantine (MECQ), active cases went down again, 2nd daw in a row, with more recoveries being reported than new confirmed cases. Active cases are at 978. Total Bulacan COVID-19 confirmed cases are at 1,560. Deaths remain at 50.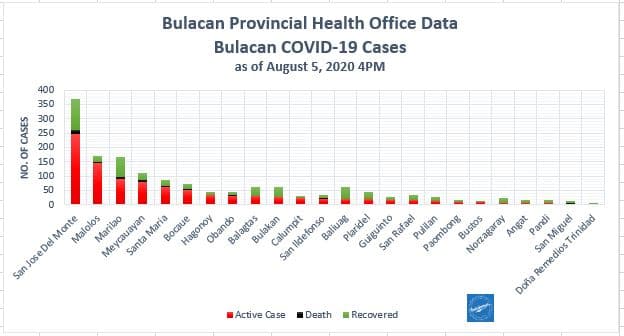 The top cities and municipalities with the most number of active and confirmed cases are: CSJDM, Marilao, Malolos, Meycauayan, and Sta. Maria.
Please refer to this table below for the actual case distribution per Bulacan town or City: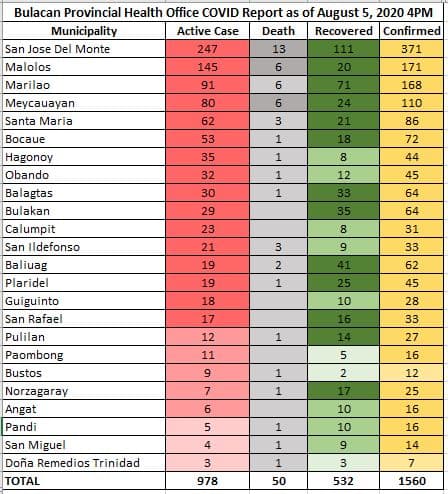 Trend of Bulacan COVID-19 Cases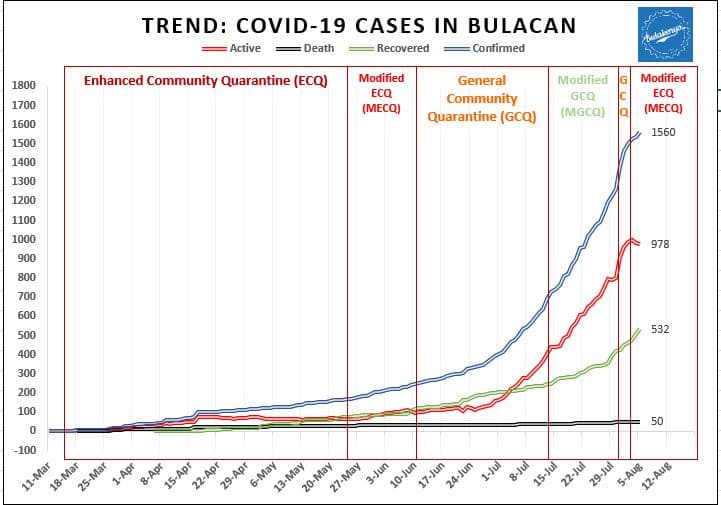 This is the trend of the Bulacan COVID-19 cases. Mostly, the number of active cases had been stable and flat up to the time when the entire province had been under General Community Quarantine.
However, we can see that when the community quarantine had been moved to MGCQ, both the confirmed and active cases had shown a steep curve going up. This can be due to a mix of factors related to the reopening of establishments and the economy.
As we move back to MECQ for the next 2 weeks, let us work together to FLATTEN THE CURVE for the Bulacan COVID-19 cases.
The reopening has prompted both the increase in the risk of exposure to possibly asymptomatic people when they started to go out of their residences, mostly to go to work. This can also be due to the increase in testing both due to the increase in testing capacity, and the requirement of companies for testing for their employees that are returning back to work.
Comparing the number of deaths against the confirmed cases, we can clearly see that the death / mortality rate has consistently dropped (currently at 3% as of Aug 5). This is a good indicator that there really are more people who are recovering from COVID-19.
The recovery rate has also consistently increased up until the spike of new cases from the recent weeks when Bulacan moved to MGCQ. With the move back to MECQ, we look forward to further increase in the recoveries for Bulacan COVID-19 cases.
Quarantine Status: MECQ (Modified Enhanced Community Quarantine) from Aug 4-18, 2020
President Duterte has announced late August 2, 2020 that Bulacan is included in the provinces that will be moved back to Modified Enhanced Community Quarantine (MECQ) from August 4-18, 2020. The announcement came 2 days after the President and IATF has announced last July 31, 2020 that Bulacan will move back to General Community Quarantine (GCQ) starting August 1.
The announcement came after the pleas of the medical community to move back to ECQ. With the recent spikes in the new confirmed cases, the hospitals and medical community are getting overwhelmed with the surge of new COVID cases. Various hospitals, especially in Metro Manila, have declared either full or nearing full capacity of ICU and Emergency cases.
We need to continue:
Practice proper hygeine and frequent handwashing
Social / physical distancing, at least 1.5 meters apart
Proper wearing of face masks – make sure that your nose and mouth are properly covered and there's no space between the mask and your cheeks to make a good seal / vacuum
Limited / no mass gatherings and social activities
Bulacan COVID-19 Hotline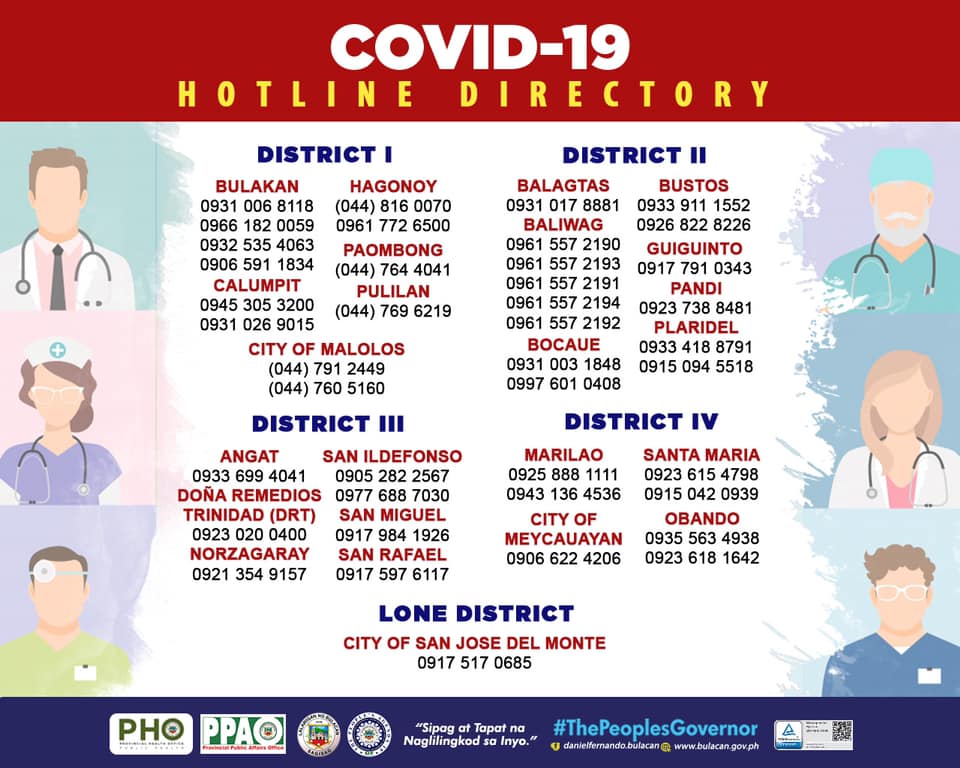 List of Hospitals in Bulacan
Bulakenyo.ph compiled a list of private and public (government) hospitals in the province of Bulacan. This is arranged according to their category (Primary, Secondary, and Tertiary) to help patients locate their preferred hospital based on their medical needs. Click on Look for Hospitals Near You: List of Private and Public Hospitals in Bulacan
PhilHealth Coverage for COVID related cases
According to their latest advisory, the Philippine Health Insurance Corporation (PhilHealth) will shoulder the full cost of treatment for all COVID cases until April 14, 2020. After the date, PhilHealth shall continue to provide financial coverage to COVID cases through a recomputed case rate.
Last April 7, 2020, PhilHealth President Ricardo Morales announced that COVID-19 patients who are admitted April 15 onwards will be covered by a case rate package divided into four categories.
Mild pneumonia: P43,997.00
Moderate pneumonia: P143,267.00
Severe pneumonia: P333,519.00
Critical pneumonia: P786,384.00
Make sure you also check the coverage from your personal health insurance provider.
Official Sources in Bulacan
Make sure that you verify your information with credible sources before sharing. For other updates on Bulacan COVID-19 cases, you can also follow the Bulacan Provincial Health Office on their Facebook Page.