Last Updated on
Follow the latest updates in this Bulacan bulletin on COVID-19 cases, as well as other related updates and measures. We have moved the daily journal of the Bulacan Provincial Health Office (PHO) report on COVID-19 cases to Bulacan COVID-19 Virus Journal Log Book.
May 26 – 175 COVID-19 Cases, 81 Recovered Patients, & 30 Deaths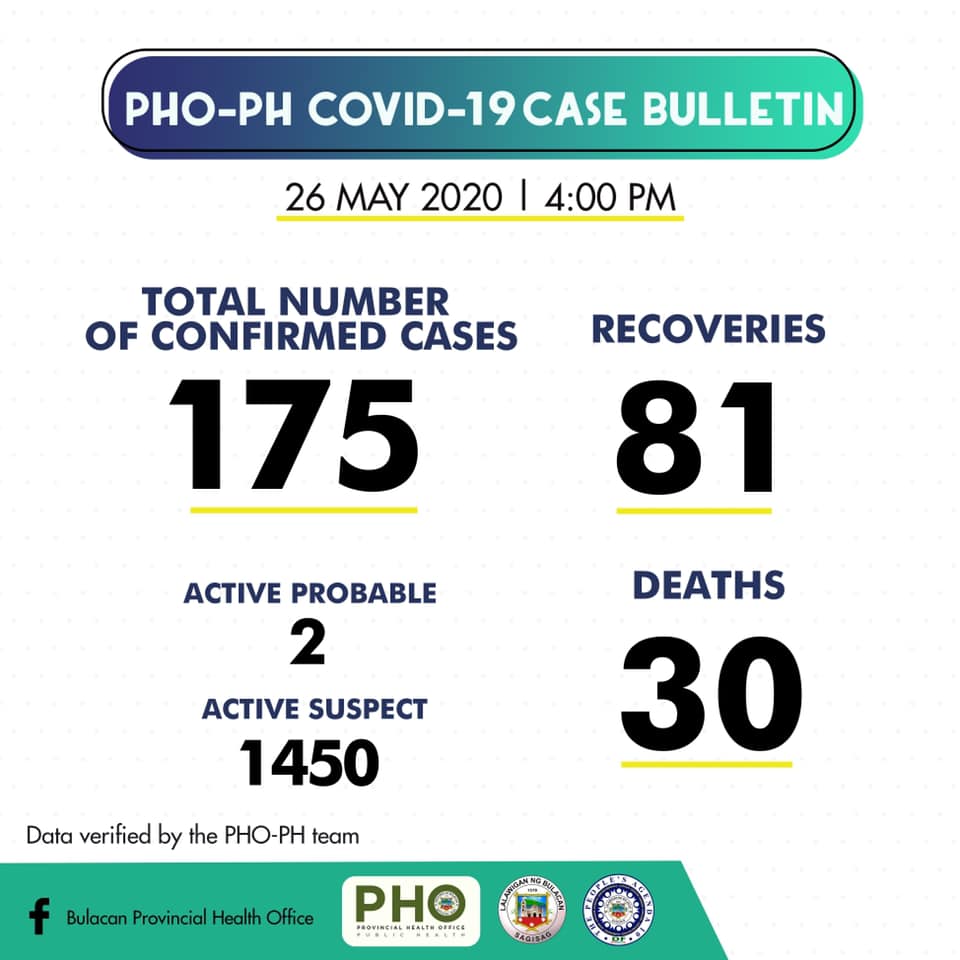 The Bulacan Provincial Health Office reported six (6) new confirmed cases from the towns of (2) Norzagaray, (2) Meycauayan City, (1) San Rafael, and (1) City of San Jose Del Monte. They also reported (6) newly recovered patients from the towns of (5) Marilao and (1) Norzagaray. The total now is at 175 confirmed cases, 81 recovered patients, and 30 deaths.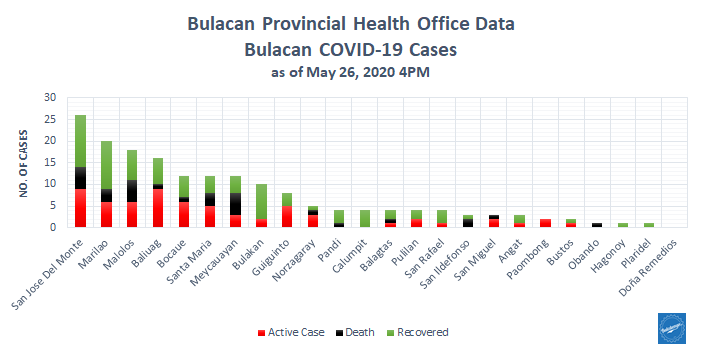 The City of San Jose Del Monte is still at the top with 26 cases. Marilao followed next with 20 cases. Malolos City is in 3rd place with 18 cases. Baliuag is in 4th place with 16 cases. The towns of Bocaue, City of Meycauayan, and Santa Maria are in 5th place with 12 cases each. The case distribution per town/municipality or city can be found in the table below:
DOH Data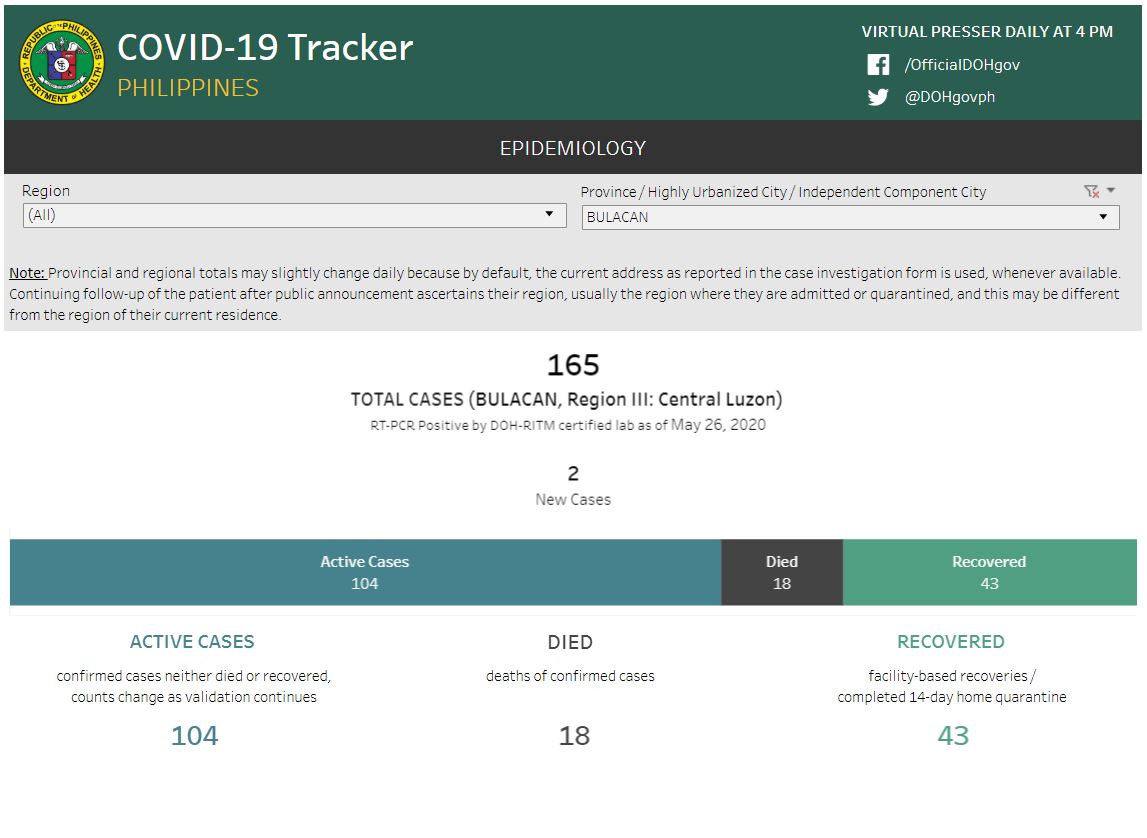 There is a discrepancy between the DOH and the Bulacan PHO data. The DOH shows 165 cases in Bulacan while the Bulacan PHO is already at 175. We will continue monitoring both sources for fair reporting.
Bulacan COVID-19 Hotline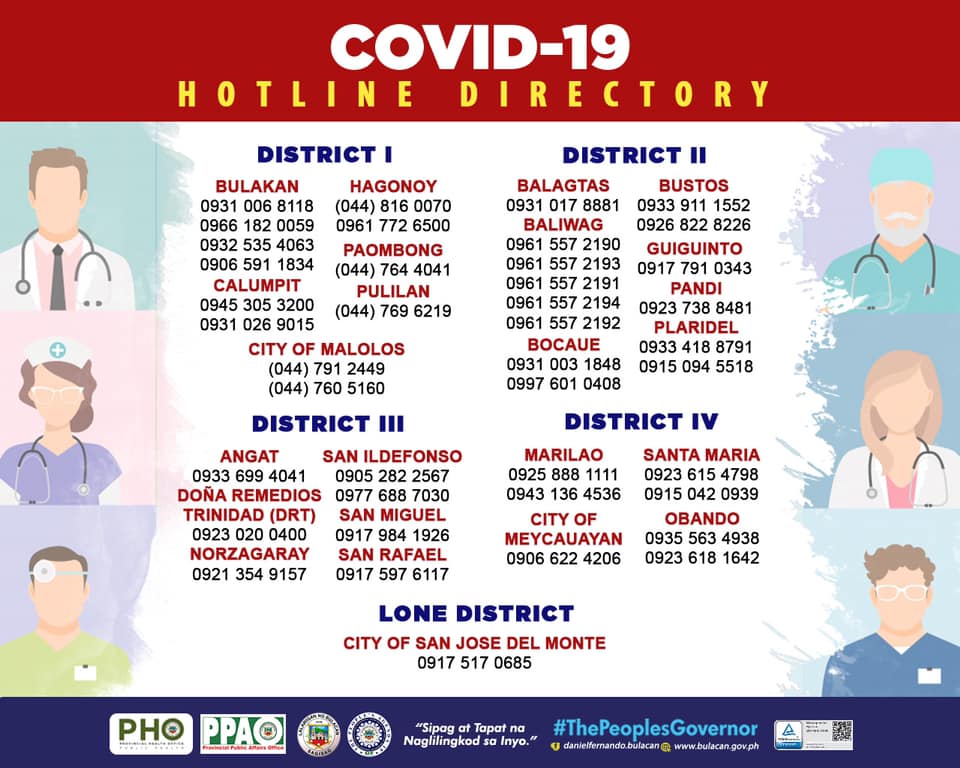 List of Hospitals in Bulacan
Bulakenyo.ph compiled a list of private and public (government) hospitals in the province of Bulacan. This is arranged according to their category (Primary, Secondary, and Tertiary) to help patients locate their preferred hospital based on their medical needs. Click on Look for Hospitals Near You: List of Private and Public Hospitals in Bulacan
PhilHealth Coverage
According to their latest advisory, the Philippine Health Insurance Corporation (PhilHealth) will shoulder the full cost of treatment for all COVID cases until April 14, 2020. After the date, PhilHealth shall continue to provide financial coverage to COVID cases through a recomputed case rate.
Last April 7, 2020, PhilHealth President Ricardo Morales announced that COVID-19 patients who are admitted April 15 onwards will be covered by a case rate package divided into four categories.
Mild pneumonia: P43,997.00
Moderate pneumonia: P143,267.00
Severe pneumonia: P333,519.00
Critical pneumonia: P786,384.00
Make sure you also check the coverage from your personal health insurance provider.
Official Sources in Bulacan
Make sure that you verify your information with credible sources before sharing. For other updates on Covid-19 cases in Bulacan, you can also follow the Bulacan Provincial Health Office on their Facebook Page.