Last Updated on March 21, 2021 by OJ Maño
Former Taliptip coastal residents will start work next month on the ongoing Tullahan-Tinajeros River cleanup operation of San Miguel Corporation (SMC) that has already rid the river of over 100,000 metric tons of silt and solid waste in the initial phase of the P 1-billion project that aims further to reduce flooding in the northern cities of Metro Manila.
Pending completion of their work and health requirements, the first 12 graduates of the heavy equipment courses under the SMC-Technical Education Skills and Development Authority (TESDA) partnership skills training program will earn income and receive further training as SMC prepares them for its upcoming cleanup operations in the province of Bulacan and the Pasig River as part of the proposed Pasig River Expressway (PAREX) project. The heavy equipment course falls under the SMC-Technical Education Skills and Development Authority (TESDA) partnership skills training program for relocatees from Barangay Taliptip in Bulacan.
Read Big flood control projects in Bulacan ahead of airport construction
SMC's Tullahan-Tinajeros River Cleanup Project
"As we fast track our dredging operations in the Tullahan River before the rainy season, we need more people to lend a helping hand and more equipment so we can expand coverage of the river cleanup in the coming months. The employment of our TESDA graduates in our Tullahan dredging operations will give them enough experience and competence to handle different kinds of heavy equipment. At the same time, they earn income for their families," said SMC president and chief operating officer Ramon S. Ang.
Read Better jobs, better lives SMC starts extensive skills training for Bulacan residents (SMC Press Release)
Ang added that SMC would continue to pursue meaningful projects and investments to boost employment and help the economy recover faster. Under the SMC-TESDA partnership skills training program, TESDA provided training and assessment costs and the training support fund under the Training For Work Scholarship Program or TWSP. In contrast, SMC provided additional transportation and food allowances for the graduates.
The graduates came from families that received financial assistance from SMC and built new concrete houses in safer areas in Bulacan province. The P740-billion Manila International Airport (MIA) is set to be constructed. Ang said that despite limitations brought about by the Covid-19 pandemic lockdown last year, the dredging and cleaning operations could extract 102,338 metric tons of silt and solid waste from the river as of February 2.
Read SMC to hire Taliptip locals for important river cleanup projects
In two years, SMC is looking to dredge a total of 1 million cubic meters of garbage from the Navotas-Malabon section alone. "Our dredging operations has complemented the flood mitigation efforts of Navotas and Malabon as shown during typhoons last year, and we also plan to start dredging further upstream to see other areas like Valenzuela, and Caloocan City benefiting as we progress in the coming months," he said.
"Having our heavy equipment graduates from Bulacan will definitely help us in the effort as we will need more personnel to operate our existing and newly-acquired dredging equipment," he added. Ang said that SMC would also acquire special equipment, including an amphibious excavator for shallow waters and river widening and a suction cutter dredger that can handle big volume throughput operations like in Pasig River.
As part of its flood mitigation component in the MIA construction, SMC will also implement a river channel improvement program in tributaries belonging to the Marilao-Meycauayan-Obando River System (MMORS) in Bulacan. It plans to dredge, clean, widen, and deepen the Alipit or Taliptip River, Sta. Maria River, and the Meycauayan River to reduce flooding.
Ang said that for the Alipit River, the target is to achieve a bottom width of 60 meters and a depth of 2.5 meters, mean sea level (MSL) throughout its 7.21-kilometer length. For the Sta. Maria River, the target is a bottom width of 90m, dredged depth of 5.0m MSL, and length of 0.50 km. For the Meycauayan River, the target bottom width is 80m; dredged depth, 4.5m MSL, and 4.46 km.
"We have studied the Bulacan flooding problem and our flood mitigation project has taken into consideration future improvements and future urban development in the areas adjacent to the airport," Ang said.
Ang said that the constant cleaning and dredging of these rivers that all lead to Manila Bay is essential as the mitigation of flooding and removal of trash and obstruction will also aid in the conservation of the marine ecosystem and traditional fishing grounds.
Apart from Bulacan, SMC plans to clean and dredge the Pasig river in line with its P95.40 billion plan to build the Pasig River Expressway (PAREX), currently under government review. The project starts from Radial Road 10 in the City of Manila and shall terminate at a connection to the South East Metro Manila Expressway at Circumferential Road 6. The Project will connect and utilize a 2.7-km portion of Skyway Stage 3 from Nagtahan to Plaza Azul.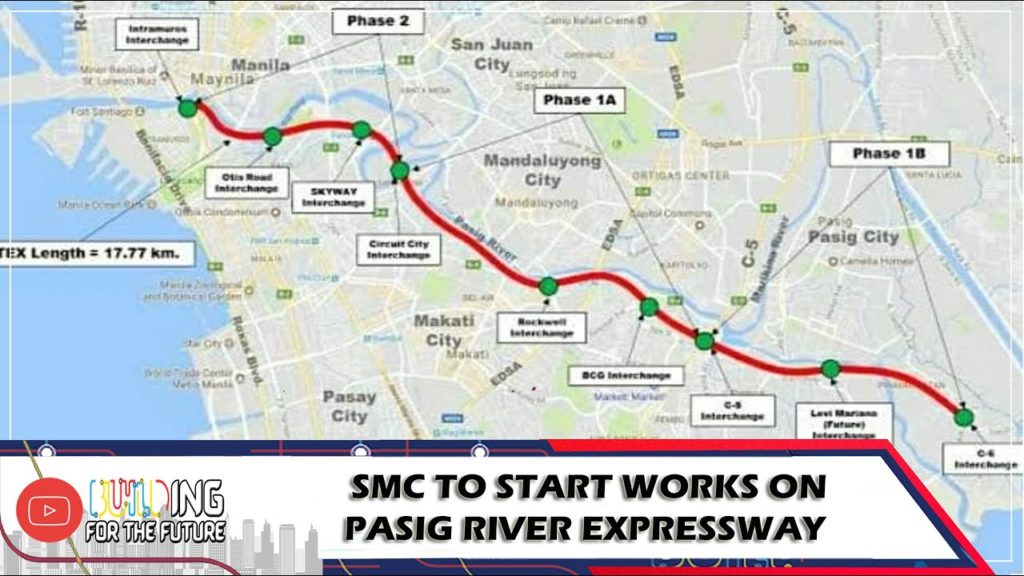 Ang said apart from constructing the 19.40-kilometer, six-lane elevated expressway along the Pasig river banks, SMC will dredge the river debris and garbage to attain its optimum depth and ensure the constant flow of water, and also address flooding in Metro Manila.