June 7, 2021 – Our kababayan, Yuka Saso of San Ildefonso, Bulacan, was crowned as the US Women's Open golf champion of 2021. The 19-year-old Filipina golfer wins the US Women's Open Championship after beating Japan's Nasa Hataoka, becoming the first Filipino to win in any of the LPGA Tour's five major championships.
The word kababayan means "fellow Filipino, countryman, or townmate." It is used throughout the Philippines. Literally, the prefix "ka" means "co," and bayan means "town." In the narrow sense, kababayan means a fellow from the same town or province.
At the young age of 19, she ties with South Korea's Inbee Park as the youngest US tournament champion. She is also expected to qualify in the Tokyo Summer Olympics next month and hopes to win the country's first elusive Olympic gold medal.
Yuka Saso is the newly-crowned US Women's Open champion.
Yuka Saso bounced back from two early double bogeys and bested Japan's Nasa Hataoka in the third hole of a sudden-death playoff to win the 76th US Women's Open golf championship at the Olympics Club in San Francisco on Sunday.
The Filipino–Japanese teenager pumped her fist and smiled after nailing a 10-foot birdie putt for the win after overcoming the early adversity on a picture-perfect day at the Lake Course. "I was actually upset," Saso said about the two double bogeys in her first three holes, which seemed to doom her chances.
"My caddie talked to me and said there are still many holes to go and to keep doing what I've been doing the past few days," she said. "And to trust the process."
Saso had to survive a late charge by Hataoka, seeking to become the latest Japanese major winner after Hideki Matsuyama triumphed at the Masters earlier this year. After starting the day six strokes off the lead, Hataoka stormed from behind with three birdies on her last six holes but then hit pars on the three playoff holes and could only watch on as Saso sank the winning shot.
Saso, who earlier in the tournament revealed she tried to emulate four-time men's major champion Rory McIlroy's swing, received encouragement from the Northern Irishman on social media on Sunday, which she said gave her a boost. "Rory said, 'Get that trophy,' and I did. So thank you, Rory," she said.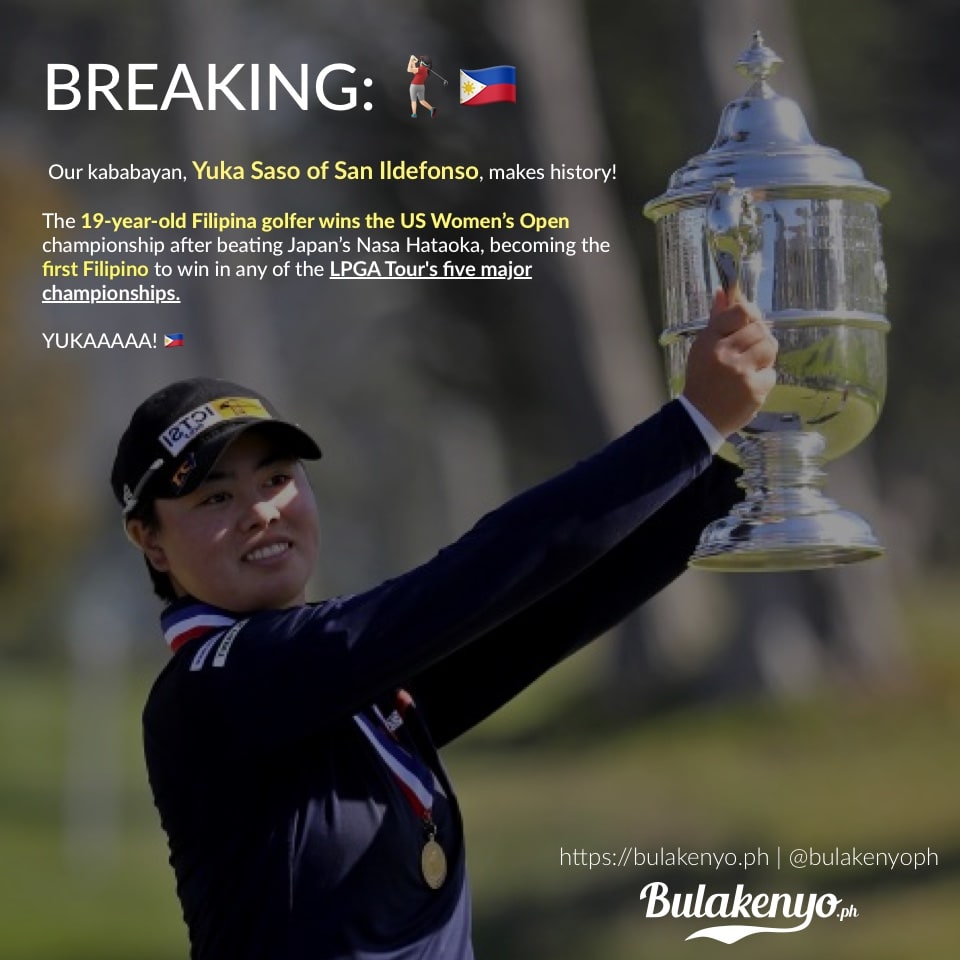 All week Saso enjoyed the vocal support of fans from nearby Daly City, which is home to a large Filipino community in the US.
One of her key supporters, International Container Terminal Services or ICTSI, a global port operator, also commended "her for her hard work, perseverance, and dedication to training, and most especially for remaining humble despite her recent successes."
"ICTSI will continue supporting Yuka in her golfing career, and we look forward to more victories," said the company controlled by Philippine billionaire Enrique Razon.
Who is Yuka Saso?
Born in San Ildefonso, Bulacan, on June 20, 2001, to a Japanese father and a Filipina mother, Saso moved to Japan when she was four. "I couldn't speak Japanese, and I didn't have any friends, so my dad brought me to the driving range, to the golf course. That's the only thing that I did," she told Olympics.com.
She grew up watching golf videos and studied the swing of her idol Rory McIlroy. The former world No.1 congratulated Saso on Instagram after her win, to which Saso said: "I would be happier if we will be able to meet in person. But I'm still thankful he messaged me."
When she was nine, Saso told his father she wanted to become a professional golfer. The older Saso took her daughter back to the Philippines, where she was home-school to play golf every day. "I think we were having fun. We love the game of golf," she said on Monday.
Sources: