I am a proud Balagtaseño. I was born and bred in Balagtas, but old folks refer to this town as Bigaa. What's in a name? Do you want to know what Bigaa means? Why did they decide to change the town's name to Balagtas (and not Baltazar) as an homage to the great poet Francisco Balagtas / Baltazar? Let's go down memory lane for a quick lesson on the history of Balagtas.
A short history of Balagtas
Balagtas a 1st class municipality in Bulacan, Philippines. It is a landlocked area between Bocaue, Bulakan, Guiguinto, Plaridel, and Pandi. It is the 2nd smallest municipality in the province next to Guiguinto, with only around 28.66 square kilometers of land. It may be relatively small, but it has a vibrant historical and cultural significance.
The history of Balagtas cannot be discussed without these hallmarks and landmarks: its centuries-old St. Lawrence parish church; the Constantino House; the Kakarong Republic of 1896 and the Battle of Kakarong de Sili in 1897 (Barrio Pandi was part of Bigaa from 1874 up to 1946); Heneral Eusebio Roque (Katipunero leader known as Maestrong Sebio); and the greatest Filipino poet, Francisco Balagtas.
According to historians, on July 3, 1892, Dr. Jose Rizal stopped by the Constantino House to visit Atty. Nazario Constantino. Later that day, Rizal met Governor-General Eulogio Despujol in Manila to discuss some matters involving his sister's case.
History of Balagtas: Caluya/Caruya
Contrary to popular belief, the original name in the history of Balagtas was not Bigaa, but "Caluya / Caruya." Spanish historian Miguel de Loarca (author of Relacion de las Isla Filipinas, 1582) and other manuscripts (like Relación de las encomiendas existentes en Filipinas el día 31 de mayo de 1591 años) during that era wrote it as "Caluya." Still, most of the modern historical references online spelled it Caruya. This is probably a minor case of mishearing, mistranslation, or misspelling of the early Spanish conquistadors, but more importantly, this area already existed.
According to historical records, this part of Bulacan was originally called La Encomienda de Caluya. Other encomiendas found in Miguel de Loarca's manuscript are Catangalan (later known as Obando), Malolos, Guiguinto, Pale (undetermined), and Binto (became town renamed as Quingua 1602) later known as Plaridel. All of these encomiendas were under the jurisdiction of the Alcalde-mayor of Bulacan (Bulakan). During this period, the Spanish colonial government's seat and central Catholic convent were originally designated in Bulakan, Bulacan.
Encomienda means a large estate under the control of a Spaniard. An encomienda (from Spanish encomendar, "to entrust") consisted of a grant by the crown to a conquistador, a soldier, an official, or others of a specified number of "Indios" (Native Filipinos) living in a particular area. The encomienda system started in 1571 when Miguel Lopez de Legazpi became the first Governor-General of the Spanish East Indies, including Las Islas Filipinas (The Philippine Islands) other Pacific islands. It was implemented in Spanish America and the Philippines to take care of the economic and spiritual welfare of the natives.
History of Balagtas: Etymology of Bigaa, 1602
In 1602, Caluya/Caruya was formally organized into a pueblo or town with its own Gobernadorcillo (more like a town mayor in the modern period) and renamed it Bigaa.
The town of Bigaa derived its name from a species of giant taro or gabi plant distinctive of its large leaves. Its scientific name is Alocasia macrorrhizos. It was said that this plant was abundant along Balagtas riverbanks and creeks in the old days. Today, this plant is sought-after because of its giant ornamentally decorative leaves that resemble an elephant's ears. A mature giant taro plant can fetch as much as P20,000 to the right collector.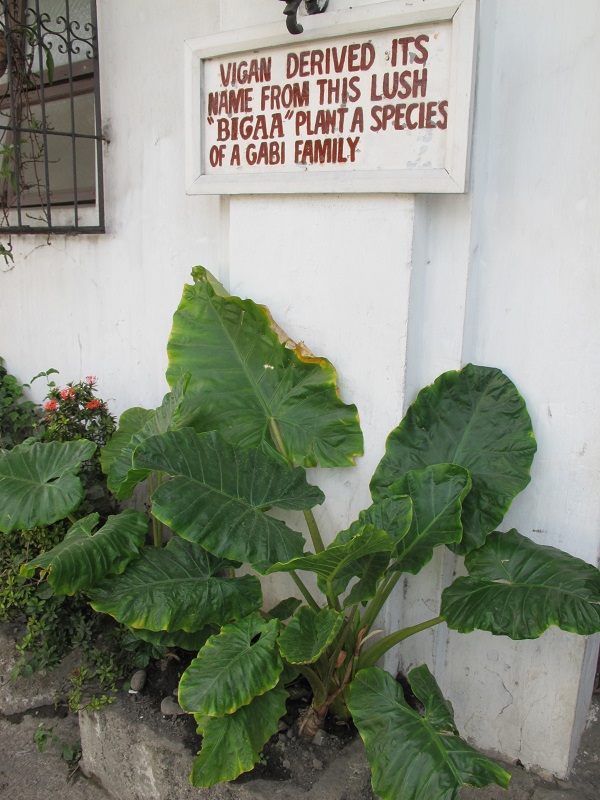 Bigaa plant can easily be mistaken as gabing San Fernando because of the uncanny similarity in the shape of their leaves. They came from the same plant family, but they are slightly different in color and bulb or bunga. Gabing San Fernando has darker green leaves and its scientific name is Xanthosoma sagittifolium.
History of Balagtas: Big Double-A
Bigaa has been called as such since the 1600s. When the Manila-Dagupan railway or the Ferrocarril de Manila-Dagupan was established on November 24, 1892, there was an influx of commuters, locals, and foreign tourists who wanted to visit provinces up north in the Philippines.
When the Americans came in the late 1800s, they would pronounce Bigaa (Bĭ-gă-ăh) as Bĭgg-ăh-ăh (Big AA), hence big double-A. The locals liked the American slang and have adopted the moniker ever since, and that's why you still hear people refer to Balagtas as Big double-A up to this day.
History of Balagtas: Bigaa, Bocaue 1903
In 1903, when the Americans established a civil government, Bigaa and Bocaue were integrated until 1911. In short, for 7 years, Bigaa was a barangay of Bocaue.
History of Balagtas: Balagtas 1966
The official name of Bigaa was changed to Balagtas through the legislative act sponsored by then-Congressman of the 1st district of Bulacan, Teodulo C. Natividad.
On June 18, 1966, then-President Ferdinand Marcos signed Republic Act No. 4702 or the Act Changing the Name of the Municipality of Bigaa in the Province of Bulacan to the Municipality of Balagtas. It was renamed in honor of the renowned Filipino poet and local pride, Francisco Balagtas.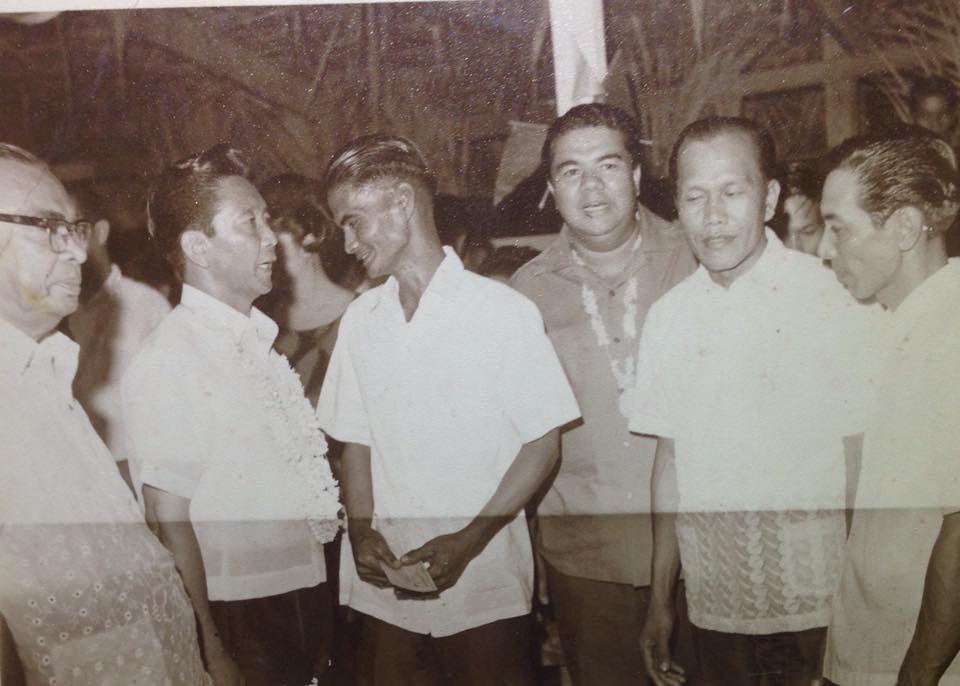 Francisco's Surname: Balagtas or Baltazar?
Francisco de la Cruz Balagtas was born on April 2, 1788, in Panginay, Bigaa. He was the youngest of the four children of Juan Balagtas, a blacksmith, and Juana de la Cruz. However, in 1849, he adopted "Baltazar" as his last name based on the mandate given by Governor-General Narciso Claveria y Zaldua, in which Filipino natives were ordered to adopt standard Spanish surnames.
November 21, 1849, Clavería issued a decree, known as "Claveria Decree," that issued a list of family names in alphabetical order based on a Spanish surnames catalog. This was to improve census data and tax collection and monitor unauthorized migration throughout the Philippines. The Catalogo Alfabetico de Apellidos (Alphabetical catalog of surnames) were sent out to the different towns and given to the locals who had no or are using native family names.
Either Balagtas or Baltazar is the correct and accepted surname of the great poet. However, the legislators decided to adopt his native last name, Balagtas, instead of Baltazar, as the new official name of the municipality of Bigaa.
Read More: Francisco Balagtas – The Best Filipino Poet!
Sources
User, S. (n.d.). History of Balagtas. Retrieved from https://www.balagtas.gov.ph/index.php/about-balagtas/history-of-balagtas
(n.d.). Retrieved from https://bulacan.gov.ph/balagtas/history.php
Gutenberg, P. (n.d.). Balagtas, Bulacan. Retrieved November 12, 2020, from http://self.gutenberg.org/articles/eng/Balagtas,_Bulacan
Balagtas, Bulacan. (2020, September 19). Retrieved November 12, 2020, from https://en.wikipedia.org/wiki/Balagtas,_Bulacan
(n.d.). Retrieved November 12, 2020, from https://www.bulacan.gov.ph/bulacan/history.php
Panonad, & ReD. (n.d.). Retrieved November 12, 2020, from https://laws.chanrobles.com/republicacts/48_republicacts.php?id=4706
Old Bigaa – Balagtas,Bulacan,PHL. (n.d.). Retrieved November 12, 2020, from https://www.facebook.com/oldbigaamemories/
Blair, E. (n.d.). The Philippine Islands, 1493–1803. Retrieved November 12, 2020, from https://www.gutenberg.org/files/16501/16501-h/16501-h.htm
Philippine Constitutions: GOVPH. (n.d.). Retrieved November 12, 2020, from https://www.officialgazette.gov.ph/constitutions/
Alocasia macrorrhiza (Giant Taro). (n.d.). Retrieved November 13, 2020, from https://www.gardenia.net/plant/alocasia-macrorrhiza-giant-taro
(n.d.). Retrieved November 13, 2020, from https://www.facebook.com/114315955252379/photos/ang-maikling-pagdalaw-ni-dr-jose-rizal-sa-bulakan-bulacan-1892ni-antonio-b-valer/533290933354877/
(n.d.). Retrieved November 13, 2020, from http://www.joserizal.ph/tr51.html
Relación de las encomiendas existentes en Filipinas el día 31 de mayo de 1591 años. (1898). Manila: Impr. de la viuda de M. Minuesa de los Ríos.
Blair, E. H., Robertson, J. A., & Bourne, E. G. (1905). The Philippine Islands, 1493-1898: Explorations by early navigators, descriptions of the islands and their peoples, their history and records of the catholic missions, as related in contemporaneous books and manuscripts, showing the political, economic, commercial and religious conditions of those islands from their earliest relations with European nations to the beginning of the nineteenth century. Cleveland, OH: The Arthur H. Clark company.