Bulacan is blessed to have a portion of the Sierra Madre mountain range, including watershed and human-made dams irrigating our fertile rice fields and supplying precious water and electricity to the province and Metro Manila.
According to the Food and Agriculture Organization (FAO), Bulacan is still predominantly an agricultural province, where irrigation facilities are in place and cover three-quarters of the total irrigable area. FAO is a specialized agency of the United Nations that leads international efforts to defeat hunger.
Dams have great benefits, but it also has negative effects on the environment. Dams change the way rivers function. They can trap fishes and other living creatures in the waters. Gravel, rocks, and sediments are excavated from its natural riverbeds destroying breeding grounds where fish spawn.
Dams are designed to hold a specific volume of water and discharges excess when approaching the critical level to avoid collapse. This usually happens during heavy rainfall or typhoon season. Yearly, we hear news of heavy flooding brought about by the emergency release from the dams.
Did you know that there are three major dams in Bulacan? Here is a list of water dams located in the province:
3 Main Dams in Bulacan
Angat Dam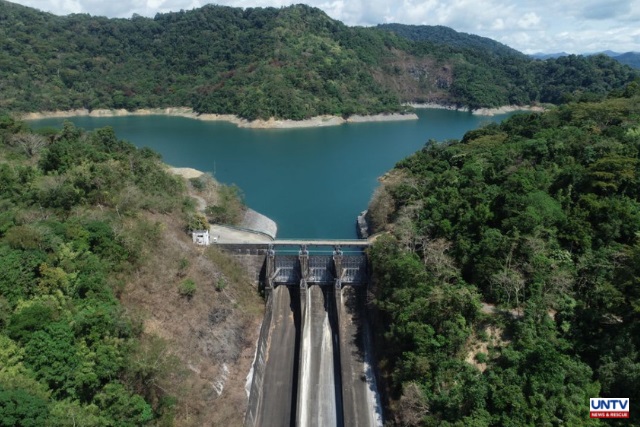 Angat Dam is the biggest concrete water reservoir in the province located at the Angat River in San Lorenzo, Norzagaray. The facilities were constructed from 1964 to 1967 and have been operational since 1968. It was built for power generation, irrigation supply, and potable water to Metro Manila. The Angat Hydro-Electric Power Plant (AHEPP) contains four 50-MW turbine-generator units and a couple of auxiliary generators, which generate 218-MW.
Read Green Energy in Bulacan: Impressive Solar Farms, Hydroelectric and Biomass
Last year, Angat Dam completed its structural rehabilitation. The National Power Corp. (NPC) has assured that Angat Dam can withstand a magnitude 7.2 earthquake following the completion of rehabilitation and strengthening works at the decades-old dam, which, experts said, is sitting along the West Valley fault line.
The Angat Hydro-Electric Power Plant (AHEPP) is undergoing rehabilitation and upgrade. They will be replacing the 53-year-old generators and auxiliary turbines. Scheduled to be fully upgraded in 2023, the hydropower plant will produce an output of 226.6MW, which is an increased capacity of approximately 4%.
You can visit the Angat Dam view deck at hilltop, San Lorenzo, Norzagaray.
Ipo Dam
Ipo Dam is the second biggest water reservoir dam found in Bulacan and located at Barangay San Mateo, Norzagaray. The dam is located about 7.5 kilometers downstream of the Angat Dam within the Angat Watershed Forest Reserve. It was a part of the Angat-Ipo-La Mesa water system.
It was built in 1935 and opened in 1936. During world war 2, the Japanese invaders captured Ipo Dam, which affected and controlled the water supply in Metro Manila. On 19 May 1945, the dam was triumphantly recovered by American and Filipino troops, known as the Battle of Ipo Dam.
The Ipo Dam is primarily a diversion or drainage dam, bringing water from the Pampanga river delta, Angat, and Ipo Rivers into tunnels that lead to La Mesa reservoir and Balara Filtration plants. It was also built to provide irrigation and flood control to Pampanga and Bulacan areas.
You can visit the Ipo Dam view deck at San Mateo, Norzagaray.
Bustos Dam
Bustos Dam, also known as Angat Afterbay Regulator Dam (AARD), is a small irrigation dam located in Tibagan, Bustos. Small compared to Angat and Ipo dam but Bustos dam is the longest rubber dam in Asia at 79 meters and the second-largest globally. It was constructed in 1926 for farmland irrigation in the Bulacan and Pampanga areas. Through the years, extensive rehabilitation and repairs have been conducted.
You can visit the Bustos Dam Eco Park located in Tibagan, Bustos.
Minor Dams in Bulacan
Maniknik River Dam
The Maniknik River Dam is located in San Francisco, Bulakan along the Tabang or Guiguinto River. When we were young, we would go here after school to swim. Locals call this 'Prinsa,' which is actually Tagalog for Dam.
San Rafael Dam
The San Rafael Dam is located in Barangay Pasong Callos. Locals call this the Pasong Callos Dam.
Casalat Dam
The Casalat Dam is located in Barangay Casalat, San Ildefonso along the Maasim River.
Palanas Dam
Palanas Dam is located in Barangay Maasim in San Rafael. According to its marker, it was built in 2002 through the aid of Rotary International.
Bulo Dam
Bulo Dam or the Bulo Small Reservoir Irrigation Project (Bulo SRIP) is located at Brgy. Kalawakan, Doña Remedios Trinidad (DRT). It was constructed by the Department of Public Works and Highways (DPWH) in 1991 as a flood mitigating project. In 2011 the rushing floodwater brought by heavy rains of Typhoons Pedring and Quiel washed out an entire structure that causes property loss in 20 affected barangays of San Miguel.
The groundbreaking of the Bulo Small Reservoir Irrigation Project (Bulo SRIP) happened in 2018 based on the NIA website.
According to NIA, the project's main objective is to increase agricultural production by providing irrigation and drainage infrastructures in the area, thus generating additional employment opportunities. During rainy seasons, the Bulo SRIP will serve as a catch basin area for 20 barangays in Bulacan, preventing flash floods downstream of Bulo River, making it a development site for inland fish culture upstream of Bulo dam. The project targets to irrigate 35 hectares of agricultural lands at Kalawakan, DRT, and 535 hectares of agricultural lands at Malibay, San Miguel, benefiting 500 local farmers.
Sources